Afgelopen zondag was er Woonrevolte in Amersfoort, en Your Local Pirates stond in het programma! Woonrevolte: de zoveelste demonstratie tegen de woningnood, het beleid dat die woningnood de ruimte geeft, tegen de politici en ondernemers die ons in de kou zetten door huurverhoging, huisuitzetting en gentrificatie. Honderden mensen op de been, een strijdlustige optocht, maar eerst dus een manifestatie waar YLP speelde.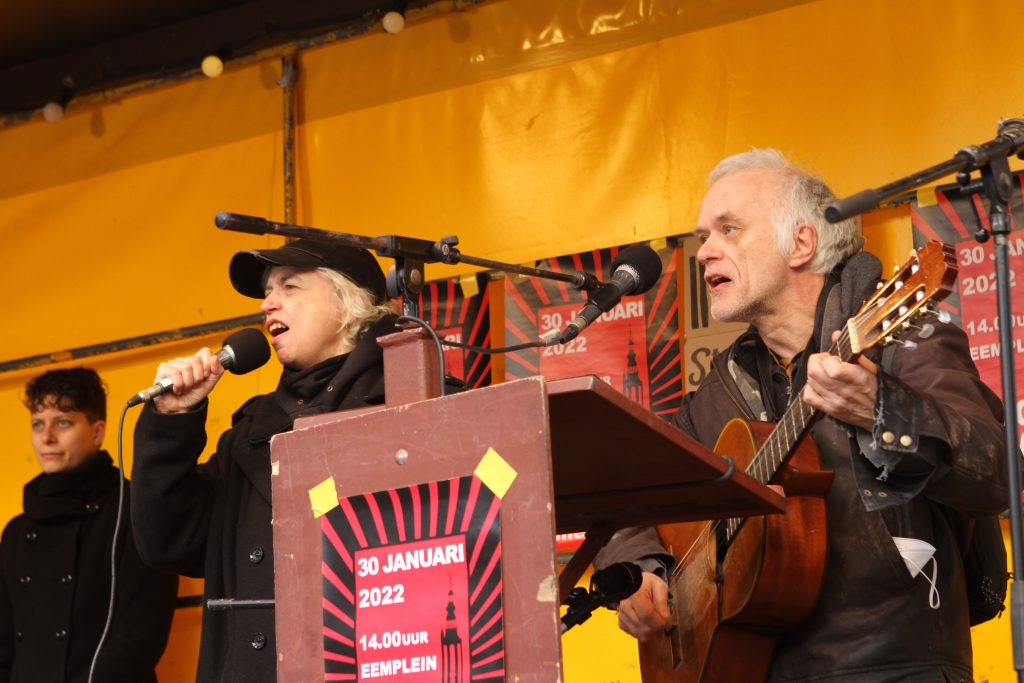 We deden twee liedjes. Eerst Fascisten! Pas Op! En daarna ons Kraaklied: Wat Niet Mag, Dat Kan Nog Steeds! Uitgerekend terwijl we dat speelden, verschenen er prachtige rode en zwarte rookwolken achter op het plein. Wat een glorieus gezicht! Geluid en beeld in strijdlustige combinatie!
Natuurlijk zijn er opnames van de Woonrevolte. Er is een mooie Livestream, te vinden op YouTube, waar ons optreden vanaf 22.24 te zien is. Tijdens de optocht valt het beeld weg, om bij terugkeer op het plein terug te keren. Erg grappig: intussen blijft het geluid op het plein spelen: de CD van Your Local Pirates, die al vanaf het begin op stond daar! Een uitgebreid persoonlijk verslag van piraat Peter vind je op zijn website.
Maar we hebben, dankzij deeez!, ook een nieuwe video op ons YouTube-kanaal – van het Kraaklied! Hier is de link. Natuurlijk heeft het lied een tekst. Die vind je hier, dan kun je lekker meezingen. Of leuker nog: het lied helemaal zelf gaan doen!
We hopen dit vaker te doen, spelen op woonprotesten. YLP, of minstens een van de twee piraten(*), speelt in ieder geval bij het woonprotest in Delft, 6 februari, en in Leiden, 13 februari. Tot dan en daar!
(*) Peter probeert te herstellen aan een burn-out en weet niet lang van te voren of het hem gaat lukken om mee te doen. Vandaar het voorbehoud. Joke doet in dat geval een vurige solo-piratenshow.