Ahoy!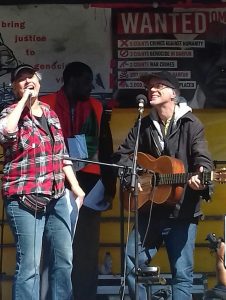 Afgelopen vrijdag hebben we gespeeld na afloop van de demonstratie om de revolutie in Soedan te ondersteunen. Uiteraard hebben we ook de demonstratie meegelopen naar het Internationaal Strafhof, waar Soedanezen in Nederland de vervolging wilden eisen van dictator en genocidepleger Al-Bashir en zijn vazallen. De Haagse wetshandhavers in het blauw voorkwamen dat we daar voor de deur kwamen. Verder was het een mooie en sterke demonstratie van vooral Soedanezen. Voor een volledig verslag, zie de website van Doorbraak.
Voor deze gelegenheid hebben we speciaal een lied geschreven (Women Of The Revolution) en we hebben een nieuwe (gevangenis-)tekst (One Day) en een reeds bestaand gedicht (Beat The Borders) op muziek gezet om bij deze gelegenheid uit te voeren. Dat nieuwe werk liep nog niet geheel vlekkeloos (work in progress), maar wel met vuur en de reacties waren uitbundig. We voelden ons vereerd als lokale piraten in dit gezelschap!
We hebben gespeeld:
Beat The Borders
Horror And Weep
One Day
Laat Ze Zelf Vertrekken
Women Of The Revolution
Tijdens een korte voorbereiding op een bankje op het Koekamp kwam een bekende smeris even wat foto's van ons maken. We vonden onze muziek belangrijker dan dit heerschap dus hebben hem genegeerd. Later hoorden we dat er geinformeerd was bij iemand van de organisatie: wat waren toch de achternamen van Joke en Peter die opgetreden hadden? Alsof ze dat niet konden weten. De reputatie van Your Local Pirates snelt alweer vooruit. Wij zeggen: kielhalen al die staatsterroristen!
Hier een video van Horror And Weep, gemaakt door Nico Hollebeek.
Hij heeft ook nog wat meer op zijn website staan over deze demonstratie.
Foto komt van Doorbraak.