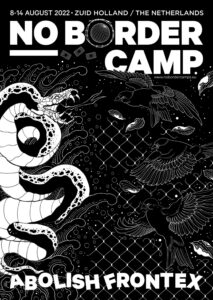 Op vrijdag 12 augustus spelen Your Local Pirates op het No Border camp (NBC)! Tijd: 19:45 – 20:30 ur. Vanaf de website citeren we met plezier:
Of ze je nou zeggen om de grenzen te verslaan, op te staan tegen fascistisch tuig of dat ze bezig zijn om de Nederlandse geschiedenis met een satirische blik te beschrijven, hun strijdkreet is er een waar niemand aan ontkomt. Of dit bij het No Border Camp, een woonprotest of een klimaatprotest is, zij zijn altijd aanwezig om mensen te inspireren, te laten zingen en dansen wanneer dit broodnodig is.
Locatie No Border Camp: Giessenweg 25, Rotterdam
Zie ook de website van het No Border Camp!