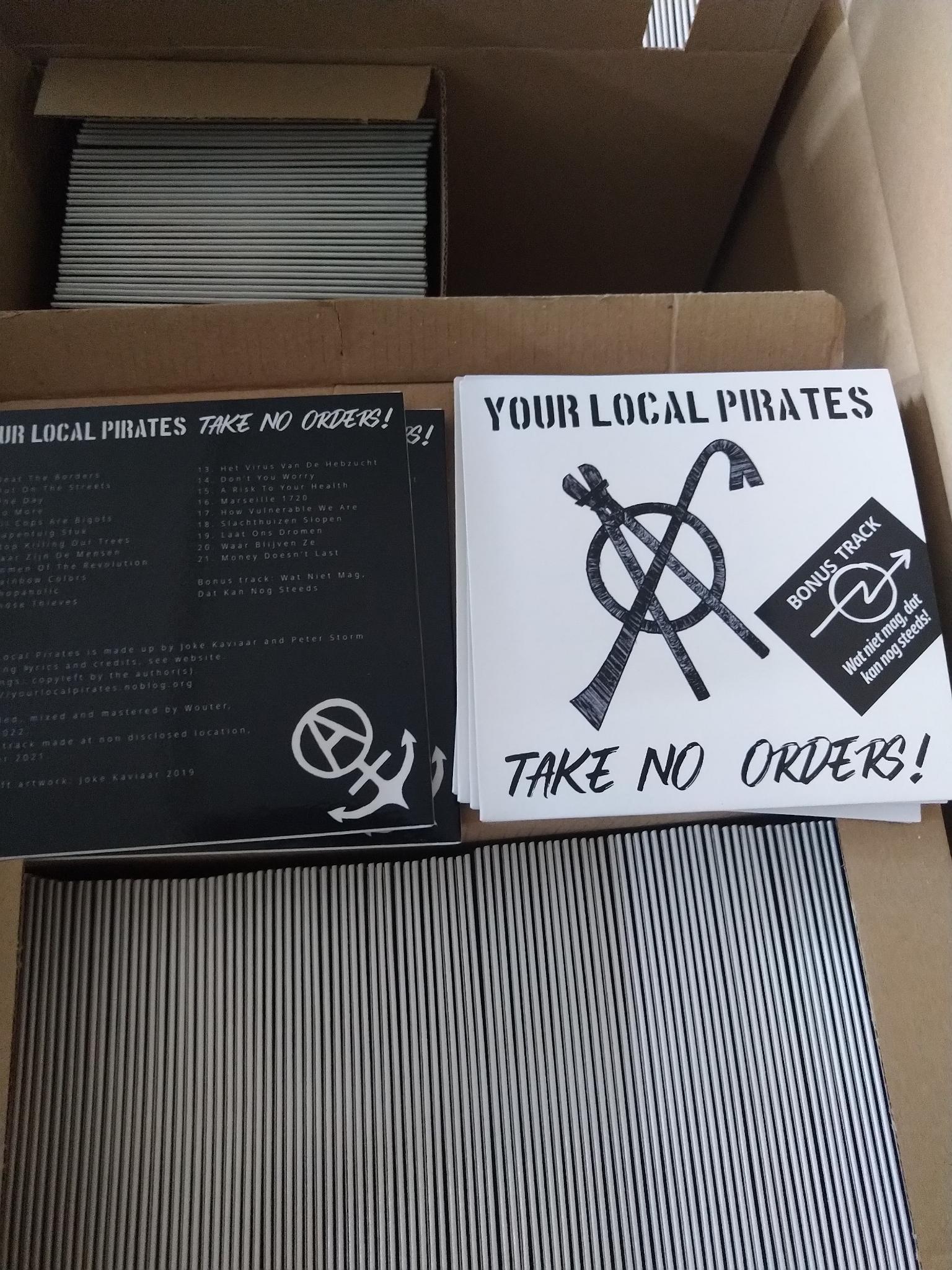 Yes! 'Take No Orders', our new CD has actually arrived. The first opportunity to get one will be in Nijmegen next Saturday. We will then present the CD at the Reclaim The Seeds festival where we perform. So Saturday 30 April, at 4.30 pm. Location: Ecodorp Zuiderveld, Alfred Hitchcockstraat 42, in Nijmegen. More information: https://eetbaarnijmegen.nl/activity/reclaim-the-seeds-zadenruilfeest/ See you then and there!
We have now also launched a real promo video to further draw attention to the CD. You can find it at https://youtu.be/FJY70uJUKoU Check it out, and spread the video further, so that no one misses out on this happy fact.
Our performance in Nijmegen is only the first in a growing series. On Sunday, Joke will be at the 1 May demonstration in Utrecht, while Peter will be present at the 1 May manifestation in Tilburg. We will then contribute separately from each other, but the spirit of solidarity will also connect us musically. We'll make sure we have the CD with us. A large number of performances will follow in May. You can find a complete overview via the agenda on our website: https://yourlocalpirates.noblogs.org/agenda-2/ Below our performances in May:
May 13: Utrecht
Befu terrain, Prozeeweg in the Hoograven district
8:30 PM.
May 14: The Hague
De Samenscholing
Beatrijsstraat 12
outside on terrace Water and Bread
8 PM.
May 15: Rotterdam
More info will follow
May 20: Hengelo
Tuindorpstraat 57, in the garden
17:00 Door Open (free entry)
18:00 Vegan Food (Free Gift)
19:30 Your Local Pirates
May 26: Amsterdam (East)
Steve Bikoplein, organisation: Joe's Garage. When it rains it's in Joe's Garage.
21 hours. Eat at 7pm.
May 27: Amsterdam
ADM Noord, De Slibvelden
Buikslotermeerdijk 95
More info will follow
Would you also like us to perform in your area? Do you see possibilities and do you want to help? Or do you have further questions or comments? Feel free to contact us! Our email is yourlocalpirates@riseup.net.
For the impatient and extra curious among us: there is a fourth song from the CD on Bandcamp! Check https://yourlocalpirates.bandcamp.com/track/beat-the-borders-2 and enjoy.